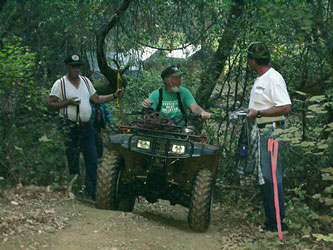 Fred, on quad, asking Kay "where's the Relaxing after a hard days work. Waiting for chow.
bear watch?" That's what they call the
latrine.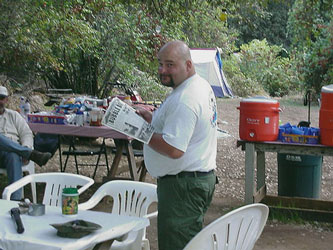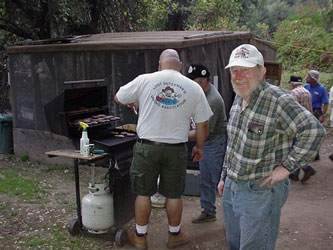 Big Rick, one of the great staff members, Rick flipping the burgers as Jackson
catchingup on the news with the National stands guard.
Inquirer.
Our fantastic cook, Donna, & hubby The cook shack. Well stocked to meet the
Richard. needs of 3 square meals a day for all.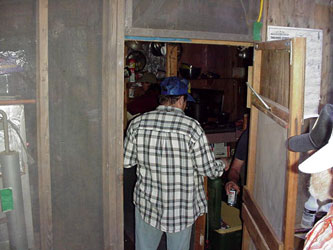 What's cooking? Checking out a nugget.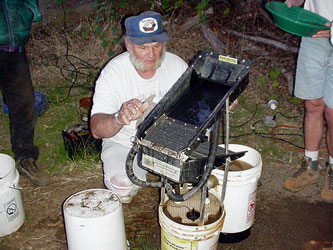 Readying the mini-sluice. Running the concentrates for gold.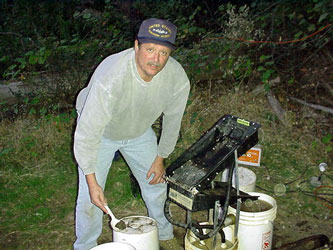 Here I am scooping the concentrates. Big Jim and me working the mini.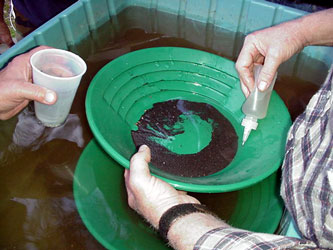 Panning the black sand looking for the I think I see some beautiful little pickers
sparklers! in the pan!
Using the tweezers for the small pickers. How fortunate we were to have Smokey here.
He is a geologist, and every evening gave us
very informative information on how the gold
was formed and where to find it.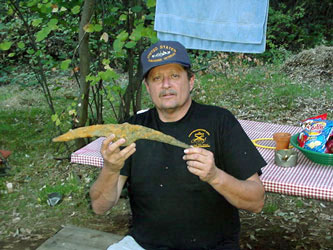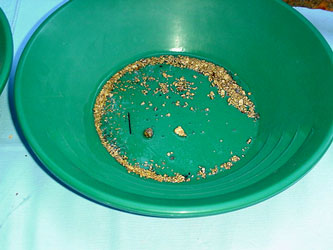 One of the prospectors found this old pick A nice pan of gold. The metal needle found
lost probably during a flood and left thought to be an old tattoo needle
behind by a miner in the late 1800's. (as good of a story as any).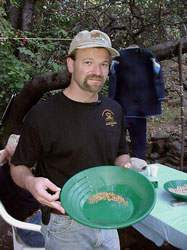 Perry proud of the find! Jim and Kay holding back their excitement
of the find!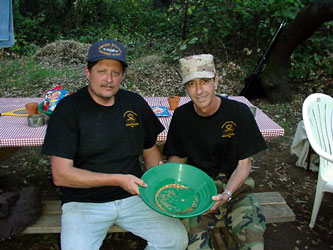 Me & Bobby taking our turn at the find. The gray fox, Jack, showing his agreement.
A hard days work can reap great rewards!